The smart-ppe® service for the
offshore sector
In the offshore area, the situation is completely different for the condition monitoring of rescue equipment or the second rescue route due to the lack of mobile phone networks on the open sea. For the smart-psa® service in the offshore area, we use the same tracker and sensor technology as for the onshore area, but this time with a different radio technology. Here we use the Long-Range-Wide-Area (LoRa) technology and implement a Long-Range-Wide-Area Network (LoRaWAN) for monitoring the rescue equipment.

In the offshore wind farm, we are setting up a star-shaped network with a radius of up to 15 kilometres using a LoRa gateway. The LoRa gateway is connected to an existing internet connection and serves as a central link between the trackers and sensors installed in the rescue equipment and a central LoRaWAN network server, which establishes communication with the IoT platform.  With our GlobalCMNet service based on LoRaWAN technology, we are able to monitor the rescue equipment in any offshore wind farm that can be reached via the Internet. Of course, this service can also be used for large onshore wind farms.

Condition Monitoring in the offshore sector with smart-psa®

The trackers we use have a standby time of more than 10 years with one status report per day. In terms of appearance and energy consumption, they are identical in construction to the products for the onshore area. For the offshore area, however, LoRa is used as the basic radio technology. 
LoRa® Tracker with Sensors
for our GlobalCMNet service:

Temperature range: -40° C to +80° C Accuracy +- 0.5° C
Humidity range: 0% to 100% Accuracy +- 3%
Pressure sensor1: 300 to 1100 hPa Accuracy +- 1.7 hPa
Motion sensor: Accuracy 2mm
Light sensor: 15 lux
Waterproof, IP66
Standby time > 10 years
1Pressure sensor optional
Monitoring Data
Data acquisition from
GPS position
Temperature
Humidity
Pressure ration (optional)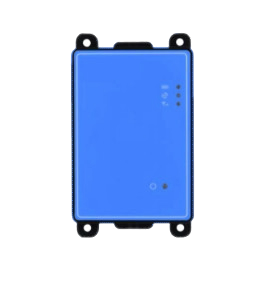 Alarm data
Triggering alarms
Removal of rescue equipment e.g. through theft
Movement of the SHE Rescue Barrel by integrated 3-axis motion sensor
Opening of the SHE Rescue Barrel by integrated light sensor